Mission Neighborhood Health Center delivers health care services to low-income families in San Francisco. While most all patients have been diagnosed with a diversity of diet-related and other health issues, patients note the impact that EatSF vouchers has had on improving and maintaining their health.
Meet Graciela – she is a 34 year old mother in San Francisco's Bayview neighborhood. As a house cleaner, she lost her income overnight when the shelter-in-place order was announced, and unfortunately, was not eligible for unemployment. With no income, Graciela had to seek other means to pay the bills. With help from her 10-year-old son's school, she wrote a letter to her landlord requesting an extension for rent.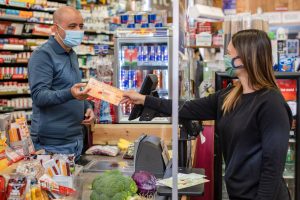 Graciela's family lives on staples from food pantries. However, with EatSF vouchers, she has also been able to buy the fruits and vegetables her family needs. The carrots, broccoli, potatoes, and legumes she can buy with the vouchers help her fight her hypothyroidism, pre-diabetes, and improve her weight.
Additionally, Graciela participates in the Diabetes Prevention Workshop at the Mission Neighborhood Health Center to learn more about healthy eating habits and to increase her physical activity. Between EatSF and the workshop, Graciela has lowered her blood sugar enough to feel the difference.
Robert, a 52-year-old male living with his wife and school aged son, similarly lives with several health-related illnesses. He has hypertension, type 2 diabetes, and a brain tumor, while his wife has polio. These health ailments have made work very difficult for the both of them. Like Graciela, Robert has been out of work and ineligible for unemployment for the past 2.5 months.
The vouchers from EatSF have been critical for Robert's family's health and well-being during shelter-in-place. While his son's school pantries provide juices, sandwiches, and other lunch foods, the EatSF COVID emergency relief vouchers enable him to buy proteins, like chicken and fish, to supplement his family's other meals. Robert is very grateful for the program and the help that it has provided during this difficult time.
EatSF expanded our program so thousands of people like Graciela and Robert can continue to eat healthy food, even after losing their income due to COVID-19.